Jun, 01, 2012 BY admin | Acne, Beauty, Deodorant, Do It Yourself Beauty, Eczema, Essential Oils, Ingredient Spotlight, Skin and Body, Skin Care Recipes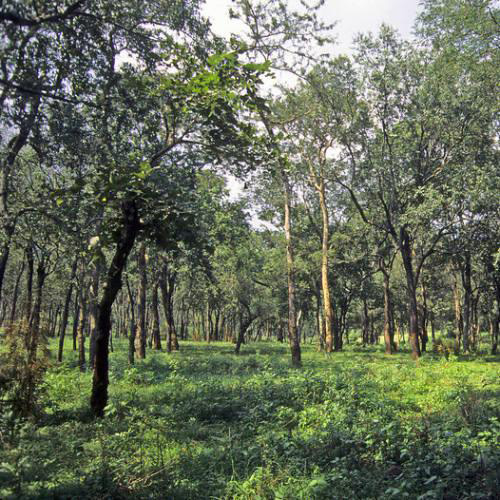 Last week I talked about Poetic Pits, an amazing organic deodorant from Living Libations that works with your body's natural scent to eliminate odor and healthily co-create intoxicating scents. At the heart of each of the many unique Poetic Pits blends is the ingredient that makes all of that possible: sandalwood essential oil. It makes a wonderful organic deodorant, but it's also a magnificently beneficial oil in so many ways.
What is Sandalwood Essential Oil?
---
Sandalwood essential oil comes from the heartwood of the Santalum tree, a heiparasitic evergreen that grows by joining the root system of other trees. Its use dates back over four thousand years, making it one of the oldest known materials used specifically for its exotic scent. It's used in fragrances, cosmetics, meditative practices, and offers more skin-related benefits by itself than any other essential oil.
The Health Benefits of Sandalwood Essential Oil
---
1) It's a powerful fighter of bad bacteria and viruses. Traditionally, it is given as a treatment for the urinary tract and kidneys; aiding sore throat, chest infections, and bronchitis;
2) It's anti-inflammatory.
3) It's a natural calmative and relaxation agent. This makes it useful in slowing spasms, stopping cramps, and for treatment of insomnia and anxiety when taken internally. Also, try adding a few drops to your favorite massage oil to increase relaxation and soothe sore muscles.
4) It helps scar tissue heal and fade.
5) Taken internally, it's a potent tonic that can soothe an upset stomach, help relieve gas, heartburn, or diarrhea, and help calm the entire digestive system.
6) It aids the circulatory system when taken internally, and has been shown to possibly help reduce high blood pressure.
7) It's an immunological stimulant, and can help reduce swelling in lymph glands when applied topically to the affected area.
8) It's similar to androsterone and helps stimulate and regulate the reproductive system. For this reason, it has also seen traditional uses as an aphrodisiac.
9) Diluted in water, it's safe for use around the house (especially in the kitchen) to repel ants and other insects. This makes it an excellent alternative for otherwise poisonous sprays and traps.
10) It's currently being studied for its possible anti-cancer effects. At least one study, which used a 5% topical solution an hour before sun exposure, has demonstrated a reduction in skin carcinogens from Sandalwood application.
The Skin Benefits of Sandalwood Essential Oil
---
Sandalwood essential oil helps soften skin by increasing and restoring its ability to retain moisture. It can be applied directly to the skin, although if you've never used it before or are particularly sensitive to essential oils, you may choose to dilute it slightly in some jojoba oil. Either way, it offers a whole host of benefits. It is powerfully anti-aging; it can relieve localized rashes, inflammation, and itching; assist in fading scar tissue; offer toning and astringent properties; help heal eczema and psoriasis; soothe acne and shrink pimples; reduce dandruff; and makes a great aftershave.
In addition to applying it topically, try one of the following:
Steam Inhalation – Fill a large bowl or washbasin with steaming water, then cover your face and head with a towel and simply breathe. This can be helpful for respiratory issues and can assist with skin conditions that precipitate facially.
Dry Conditioning – Simply add a few drops to your dry hair after a shower or during the day. It can help restore moisture to hair and give your hair a soft shine.
Sandalwood Essential Oil Recipes
---
For acne or pimples, mix 3-7 drops of sandalwood essential oil (depending on how sensitive your skin is) with one teaspoon of turmeric powder and one teaspoon of rosewater or spring water. Apply a thin layer of the paste and leave it on for at least thirty minutes. Rinse with lukewarm water and dry gently. You can do this once or twice a day. Pimples should begin to shrink noticeably after only 48 hours.
Calm inflammation, itchiness, or rashes. Mix 3-7 drops of sandalwood essential oil with one teaspoon of turmeric powder and one teaspoon of lime juice. Apply a thin layer to the affected area and let it sit for 20-30 minutes. Rinse with cool water and pat dry. While redness or swelling may take some time to subside, itchiness should fade quickly.
Dry skin. Sandalwood oil is an excellent moisturizer, and can aid dry skin. Apply a drop or two directly to areas you want to address and massage it in. If you want to cover larger areas, I recommend combining it with a carrier oil like jojoba oil. This sandalwood oil will function as an excellent body and massage oil that will leave your skin feeling soft and hydrated.
Bug bite treatment. Mix 5-7 drops of sandalwood essential oil with one teaspoon of turmeric, one teaspoon of lavender oil, and just enough water to make it a paste. Apply this to the bug bite as soon as possible to stop itching and reduce swelling.
Uneven tans. Mix five teaspoons of coconut oil with two teaspoons of jojoba oil and 7-10 drops of sandalwood essential oil. Massage this into overexposed areas. Sandalwood helps break down the pigment that has reached the surface of the skin and will leave you with an a more even skin tone.
Where can I find Sandalwood Essential Oil?
---
If you'd like to try any of the recipes above, you can purchase Wildcrafted Sandalwood Oil directly here.
Here are some other amazing products that include Sandalwood Essential Oil:
Poetic Pits by Living Libations
Bee Beauty by Living Earth Beauty
Supernatural Serum by Living Earth Beauty
Maverick Face Creme by Living Libations
Sandalwood  is a beautiful oil with vast benefits and uses. It's easy to incorporate into any skin and body care regimen and is an excellent oil to have around the house.
Have you used Sandalwood essential oil? If so, what do you use it for and how has it served you? And, if you've tried any of the products or recipes above, let me know what your experience has been!